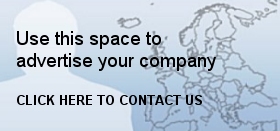 News
Please let us know any news stories from your country /association – use the "contact us" tab.
Report of survey by EFPTA & EFPA BEA published February 2019
EFPTA collaborated with the Board of Educational Affairs of the European Federation of Psychologists' Associations (EFPA) to conduct a survey among EFPA's member associations about psychology as a school subject in their respective countries. As you will see in this brief report on the EFPA website, the results present a very varied picture!
Documents and Resources
EFPTA - EFPA BEA survey report
EFPTA Conference 2020 dates confirmed! 16-19 April, Bratislava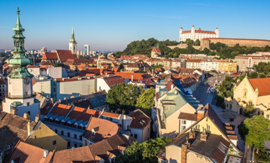 Exciting news - the next EFPTA biennial conference will be held in Bratislava, Slovakia, on 16-19 April 2020!
The title encapsulates a theme that has gained much prominence in recent years:
Psychology for every day: promoting life skills through the teaching of psychology.
The Slovakian psychology teachers' association - SAUP (www.saup.sk) - will be our hosts in the beautiful capital city of Bratislava. As at our Reykjavík 2018 conference, the programme will feature keynote speakers and a range of workshops led by participants from many European countries, and all with a strong focus on psychology teaching for young people in schools, up to age 18-19 years. Our conferences are very interactive and friendly; we value discussion and sharing of ideas and experiences, as well as debate on issues affecting our discipline and our classroom practice.
For this conference we are adding a cultural programme on Thursday 16 April and Sunday 19 April, and the formal conference programme will take place on Friday 17 - Saturday 18 April.
Watch this space in 2019 for further information and registration!
Documents and Resources
EFPTA Newsletter 2018 is published!
EFPTA Newsletter 2018 is published! Read reports from the Reykjavík conference, and articles on psychology teaching.
http://www.efpta.org/home/index.asp?sid=5
New: European Society for Psychology Learning and Teaching - ESPLAT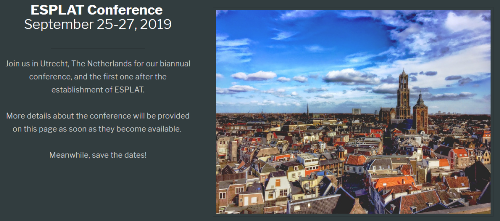 ESPLAT is a new body - the European Society for Psychology Learning and Teaching, founded at the 2018 EuroPLAT conference in Salzburg.
Its aim is to advance the learning and teaching of psychology at all educational levels, including pre-university level in schools, and to provide a forum for researchers and teachers of psychology. ESPLAT will continue the EuroPLAT tradition of scholarly exchange on Psychology learning and teaching and to this end the first conference under the auspices of ESPLAT will be held on 25-27 September 2019 in Utrecht, Netherlands.
EFPTA 2018 Conference in Reykjavik, 13-14 April! This Conference has now taken place...
Thank you to everyone who participated - keynote speakers, workshop presenters, and all delegates! Psychology teachers and others interested in psychology education at pre-university / high school level, from 14 countries, gathered to discuss and share information, expertise and ideas on teaching psychology to young people.
The theme was 'Psychology for everyone - the value of psychology education for young people' and the event was hosted by the Icelandic psychology teachers' association - Samtöksálfræði- oguppeldisfræðikennara. One of the highlights of the Conference was an excellent presentation by Icelandic high school students.
If you missed this EFPTA Conference, make sure you don't miss the next one - watch this space for news of EFPTA 2020!

Documents and Resources
Conference poster /flyer to download / print
EFPTA Board: elected members for 2017-19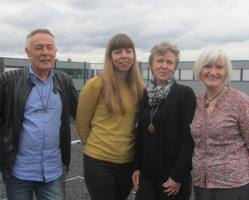 At the Board meeting in Luxembourg on 1 April 2017, members elected new President Harpa Hafsteinsdóttir and Vice-President Lenka Sokolová (Harpa is second from left and Lenka third from left). Wolfgang Augustin was re-elected as Treasurer, and Morag Williamson as Secretary. Retiring President Hannele Puolakka was warmly thanked by Board members for her work over the past two years, as well as her contribution to EFPTA for several years previously, and incoming President Harpa presented her with a token of our gratitude.