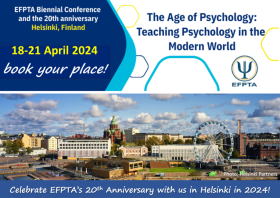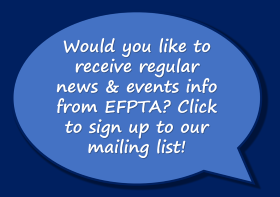 News
Please let us know any news stories from your country /association – use the "contact us" tab.
EFPTA contributes to ICAP conference, Paris 8-13 July 2014
EFPTA representatives presented alongside EFPA colleagues in the prestigious International Congress of Applied Psychology, Paris, 8-13 July 2014.
This was a landmark event for EFPTA as, to our knowledge, it was the first time that a talk on pre-tertiary psychology education - given by pre-tertiary psychology teachers rather than university staff or researchers – has featured in an international psychology conference. EFPTA President Dorothy Coombs and past President Renate Schrempf contributed to a symposium on psychology education in Europe, organised by EFPA's Board of Educational Affairs, on which EFPTA is represented. The presentation by Dorothy and Renate was a major (and much-needed) awareness-raising initiative to highlight the important role of pre-tertiary psychology education, amongst a diverse international audience of psychologists and psychology educators.

Click on the links below to see the presentation, and the abstract on the ICAP webpages.
Documents and Resources
https://b-com.mci-group.com/Abstract/Statistics/AbstractStatisticsViewPage.aspx?AbstractID=183173