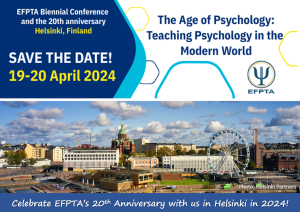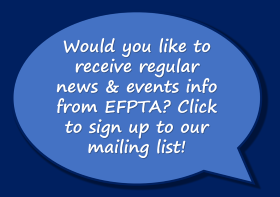 News
Please let us know any news stories from your country /association – use the "contact us" tab.
EFPTA represented at Board of Educational Affairs, Brussels, 3 February 2012
EFPTA is an Affiliate Member of the European Federation of Psychologists' Associations (EFPA), which recently established a Board of Educational Affairs (BEA). The Board's remit includes all forms of psychology education. At its inaugural meeting in Brussels on 3 February 2012, EFPTA President Renate Schrempf and Vice President Dorothy Coombs presented issues concerning pre-tertiary psychology teachers in Europe.
EFPA President, Robert Roe, stressed the importance of psychology education at school level, in his presentation to the European Parliament in November 2011.

Documents and Resources
Prof Robert Roe's presentation to European Parliament, November 2011