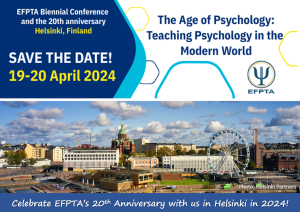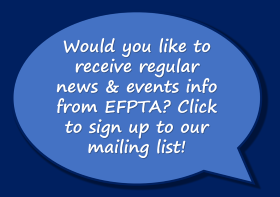 News
Please let us know any news stories from your country /association – use the "contact us" tab.
EFPTA members held a round table at the first conference of ESPLAT, Utrecht, September 2019
ESPLAT - the European Society for Psychology Learning and Teaching - was founded at the 2017 EuroPLAT conference in Salzburg.
Its aim is to advance the learning and teaching of psychology at all educational levels, including pre-university level in schools, and to provide a forum for researchers and teachers of psychology. ESPLAT will continue the EuroPLAT tradition of scholarly exchange on Psychology learning and teaching.
The first conference under the auspices of ESPLAT was held on 25-27 September 2019 in Utrecht, Netherlands. EFPTA members Lenka Sokolová, Morag Williamson and Jock McGinty led a round table session on "Getting off to a good start in psychology: benefits and limitations of pre-tertiary education in psychology".
You can find their presentation at the link below.
Documents and Resources
Round Table presentation: Getting off to a good start in Psychology