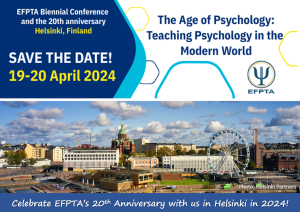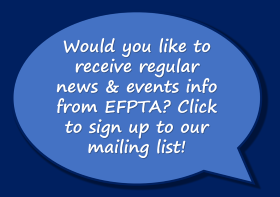 News
Please let us know any news stories from your country /association – use the "contact us" tab.
EFPTA Board meetings: 2017 and 2018
We hold Board meetings twice a year, in spring and autumn. Location of meetings is usually a major European city and is largely determined by availability of flights from member countries.
The autumn 2017 EFPTA Board meeting was held in Prague on 3-4 November 2017. Many thanks to the Czech Republic psychologists' association for their help in organising this event, as hosts of the EFPA "European Semester", July-December 2018.
We welcomed new Finnish representatives Helena Haranen and Teija Jokinen-Luopa, and said a sad goodbye to long-standing Adviser Marjatta Lehtovirta. President Harpa Hafsteinsdóttir presented her with a gift in appreciation of her work with the Board over the years.
The next meeting will be held on 13 April 2018 in Reykjavík, prior to the start of the EFPTA Conference. Provisional dates and venue for the autumn 2018 meeting are: 2-3 November, Prague. Any member of an EFPTA member association is welcome to attend Board meetings as an observer; please use the Contact page to ask for more details.