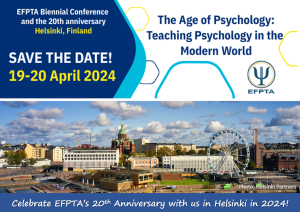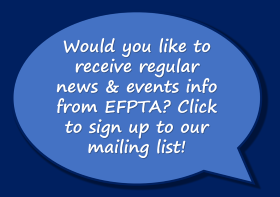 EFPTA Newsletters
Find a round-up of the year's activities in the EFPTA Newsletter! Read about our conferences and events, research on psychology education and other areas of psychology, as well as book reviews, reports from our member countries and associations, and other features.
Why not contribute to the Newsletter? Articles on any psychology-related topic are welcome: they can be short or long, serious or light-hearted.... Help is available with English translation if needed. Our Newsletter Editor is Jock McGinty (England & Wales) - contact Jock with your idea for an article.
EFPTA Newsletter 2021-22
Find a wealth of news and reports in the 2021-22 Newsletter! Read about the keynotes and workshops at the EFPTA 2021 conference - which was very successful in spite of being fully online - and the EFPTA webinars in 2021 and 2022. There are also reports from the ATP 2021 international conference - which went ahead in person! You will find updates from national associations of psychology teachers, and other items of interest to everyone involved in psychology education.
EFPTA Newsletter 2018
Take a look at our 2018 Newsletter! Read reports from our Reykjavík conference which took place in April 2018; as well as two great keynotes there were workshops on many aspects of psychology teaching - students' experiences, ethics, teachers' CPD, role of psychology in career choices, to name just a few. You will also find interesting articles by contributors from Norway and Sweden, shedding new light on psychology teaching in those countries.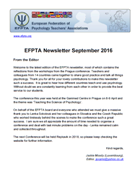 October 2016
EFPTA Newsletter 2016 is published! Enjoy the photos and reports from the Prague 2016 conference, which was attended by delegates from a record 14 countries. Thanks to everyone who wrote reports on the many workshops as well as the Keynotes. Read the update from the President too, to get a good overview of recent EFPTA activities.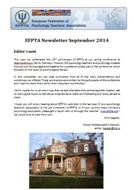 September 2014
What an exciting year 2013-14 has been for EFPTA! Read all about the 10th Anniversary conference in April in Berlin, attended by around 100 psychology teachers and students from 10 European countries. You'll also find a report of EFPTA's contribution to the prestigious ICAP conference in Paris, in July, and news of new links with the APA's group for high school psychology teachers in the USA.


September 2013
What's been happening in psychology education across Europe in 2013? Read reports from Member countries, including new Members .....Bratislava November 2013..... planning for Berlin Conference 2014...... Member countries' events ....EFPA and Paris 2014...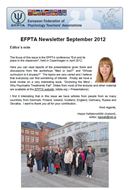 September 2012
EFPTA Copenhagen Conference, April 2012 - full reports....EFPTA is represented on the new Board of Educational Affairs at EFPA....EFPTA research with psychology students and teachers is presented in several countries....psychology teachers from many countries attend the ATP Conference in England, July 2012... find out about all of EFPTA's exciting activities during 2011-12!
November 2011
EFPTA at the European Parliament.... A Europe-wide collaborative student project.... EFPTA members at the European Congress of Psychology in Istanbul, June 2011..... Dortmund Spring School, March 2011, for European psychology students.... As you can see, EFPTA has been very busy in 2011 - read all about these activities, and more besides, in the Newsletter.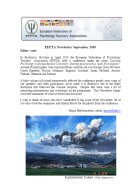 September 2010
In Bratislava, Slovakia in April 2010 the European Federation of Psychology Teachers' Association (EFPTA) held a conference under the name Teaching Psychology in Europe Beyond University: Sharing good practice, learn from experts!
Around 60 participants were registered from countries all over Europe, from Slovakia, Czech Republic, Russia, Germany, England, Scotland, Spain, Holland, Austria, Finland, Denmark and Iceland.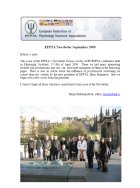 September 2009
This issue of the EFPTA's Newsletter focuses on the ATPS/EFPTA conference held in Edinburgh, Scotland, 17-18th of April 2009. There we had many interesting lectures and presentations and you can read brief summaries of them in the following pages. Here is also an article about the influence of psychosocial well-being on school drop-out, written by the new president of EFPTA, Hans Reijnierse.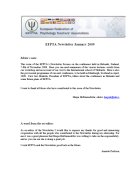 January 2009
This issue of the EFPTA's Newsletter focuses on the conference held in Helsinki, Finland, 7-8th of November 2008. Here you can read summaries of the various lectures, results from our workshop and an account of our visit to the International school of Tikkurila.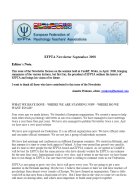 September 2008
This issue of the Newsletter focuses on the seminar held in Cardiff, Wales, in April 2008, bringing summaries of the various lectures, but first Jari, the president of EFPTA outlines the history of EFPTA and brings his vision of its future.
January 2008
This issue of the Newsletter focuses on the conference held in Bologna, Italy, in November 9-11 2007, bringing summaries of the various lectures. First Jari, President of EFPTA, writes about the new constitution of EFPTA, secondly Dorothy Coombs, Vice President of EFPTA, also gives information about the new constitution and the
Bologna conference, and thirdly there is a notice by Joe Cocker about the Cardiff seminar in April 2008.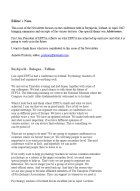 September 2007
This issue of the Newsletter focuses on the conference held in Reykjavik, Iceland, in April 2007, bringing summaries and excerpts of the various lectures. One special theme was Adolescence.
January 2007
This issue of EFPTA's Newsletter has two different focuses: the seminar held in Dortmund in November 2006 and interviews with psychology teachers across Europe about their work situation.