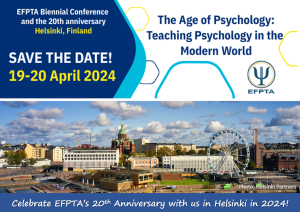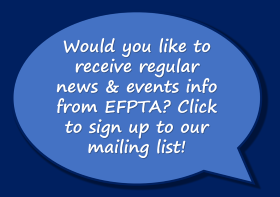 News
Please let us know any news stories from your country /association – use the "contact us" tab.
EFPTA poster launched at London meeting, October 2010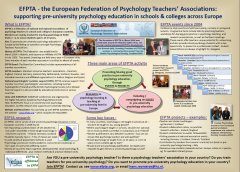 At the EFPTA event in London on 29 – 30 October 2010, Dorothy Coombs (UK) and Morag Williamson (Scotland) presented a poster telling you everything you ever wanted to know about EFPTA.
It is printed on A1 size paper, and is intended for display at conferences, training events, in schools and colleges etc. All EFPTA members are encouraged to download the poster and display it as much as possible, to increase awareness of the Federation amongst colleagues, across Europe.
You can either get it printed yourself (cost about 20-40 euros), or you can simply display it using a beamer /data projector – it is a single Powerpoint slide, saved in PDF format. Or, here is another way of using the poster: ATP, the UK psychology teachers' association, printed it as a centre-page spread, A3 size, in their members' magazine, 'ATP Today'.
The poster is in English, but you can edit the slide, for example you can translate it into another language, add your own association's contact details etc; use the "Contact Us" link to contact Morag if you want the Powerpoint version, or would like help to edit it.
Documents and Resources
EFPTA poster - Guidenace for users