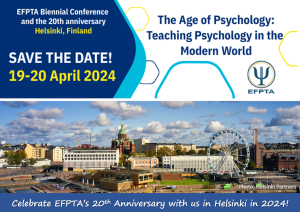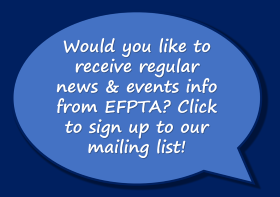 News
Please let us know any news stories from your country /association – use the "contact us" tab.
EFPTA 2018 Conference in Reykjavik, 13-14 April! This Conference has now taken place...
Thank you to everyone who participated - keynote speakers, workshop presenters, and all delegates! Psychology teachers and others interested in psychology education at pre-university / high school level, from 14 countries, gathered to discuss and share information, expertise and ideas on teaching psychology to young people.
The theme was 'Psychology for everyone - the value of psychology education for young people' and the event was hosted by the Icelandic psychology teachers' association - Samtöksálfræði- oguppeldisfræðikennara. One of the highlights of the Conference was an excellent presentation by Icelandic high school students.
If you missed this EFPTA Conference, make sure you don't miss the next one - watch this space for news of EFPTA 2020!

Documents and Resources
Conference poster /flyer to download / print