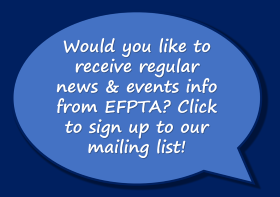 EFPA
EFPTA is affiliated to EFPA, the European Federation of Psychologists' Associations, which provides a forum for European cooperation amongst psychologists in a wide range of fields of education, practice and research.
There are 36 member associations of EFPA representing about 300,000 psychologists.
We in EFPTA have two representatives on EFPA 's Board of Educational Affairs (BEA) which aims to support developments in psychology education, develop standards for curricula in psychology at all levels, and give advice on issues of concern to students and teachers of psychology. EFPSA, the European Federation of Psychology Students' Associations, is also represented. Find more details of the BEA here.
EFPA's flagship event is the biennial European Congress of Psychology, most recently held in Stockholm (2013) and Milan (7-10 July, 2015). EFPA's journal is the European Psychologist.